Ocean City Fishing Club Tournaments

The Ocean City Fishing Club participates in many events during the year. It sponsors a boys and girls fishing tournament and an OCFC invitational surf fishing tournament. The Club participate in an inter-club pier fishing tournament (Ocean City, Margate and Ventnor Fishing Clubs), the Cape Hatteras, NC surf tournament, and the Association of Surf Angling Clubs (ASAC) tournaments.
This year the Ocean City Fishing Club finished first place in the Association of Surf Angling Club tournament. ASAC is comprised of about 76 teams with 6 anglers each. Surf & Land Fishing Club, a strong contender, was defeated. After competing in 13 tournaments along the south Jersey's coast, OCFC became the 2003 season league champion.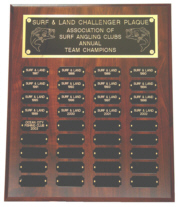 ANNUAL TEAM CHAMPIONS
The above page is not the official website for the Ocean City Fishing Club. The official website is at www.oceancityfishingclub.com 4H>

Copyright © 2023 All rights reserved.
---
Return to: Ocean City Fishing Club