OCEAN CITY FISHING CLUB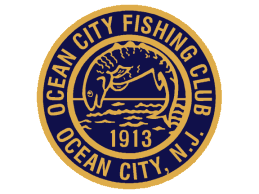 The oldest continuously operated fishing club in the country
The Ocean City Fishing Club was first started in the summer of 1913 and is the oldest continuously operated fishing club in the country. A handful of surf fishermen met on the beach in Ocean City, NJ to pool their efforts towards a common goal of sportsmanship and fellowship. The first meeting of the club was held on August 15, 1913 with twelve members enrolled.
The club was incorporated as the Ocean City Fishing Club of Ocean City, New Jersey on September 4, 1913. Membership over the years has varied from a high of 447 members in 1922 to our present average of 200 for the year 2009. Tournaments, casting contests, and inter-club fishing team competitions have played a major role in the club's activities.
The Ocean City Fishing Club has had several disasters due to storms and hurricanes that has taken their toll. Severe storms damaged the pier in 1916, 1945, 1949, 1962 and 1992. Because of the members' enthusiasm for fishing, the pier was always rebuilt, improved, and/or extended.
The OCFC pier at 14th Street and the Boardwalk extends 635 feet from the public Boardwalk over sand into the Atlantic Ocean. The outer platform tee (T) is 50 feet wide and 30 feet long with an elevation of approximately 24 plus feet.
Kings, Weaks, Blues, Flounders, Croakers, Lings and Striped Bass, have dominated the fishing harvest over the years.

Ocean City Fishing Club's Fishing History Chart
Ocean City Fishing Club Memoirs
Ocean City Fishing Club Tournaments
Ocean City Fishing Club Presidents
Ocean City Fishing Club's Centeninial Tournament
OCFC Celebrates its 100th year
Ocean City Fishing Club - Years Past

Today, the Ocean City Fishing Club still carries on the tradition of good fishing, fun, sportsmanship, and fellowship among the club members and the public.
OCEAN CITY FISHING CLUB
14th Street & The Boardwalk
Ocean City, New Jersey 08226
609-398-9800

North 39 degrees, 16.200' (Latitude)
West 74 degrees, 34.750' (Longitude)

The above page is not the official website for the Ocean City Fishing Club. The official website is at www.oceancityfishingclub.com 4H>

Copyright © 2019 All rights reserved.

---
Return to: Top of Page